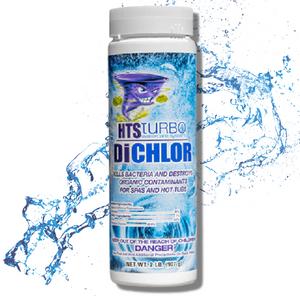 HTS Turbo DiCHLOR - 2 LBS
HTS Turbo Sanitizing granules are designed to dissolve quickly and completely. HTS Chlorine granules provide a steady source of available chlorine to the Spa water to control the algae growth, kill bacteria and destroy organic contaminants. TDS Turbo chlorine granules are stabilized to protect against ultraviolet radiation from the sun, increasing the life and slowing the decay rate of your sanitized water. HTS Turbo Dichlor granules are designed to work seamlessly with Hot Tub Serum Total Maintenance is recommended to be used as part of your weekly regimen.

QUESTIONS & ANSWERS
Have a Question?
Be the first to ask a question about this.
Ask a Question