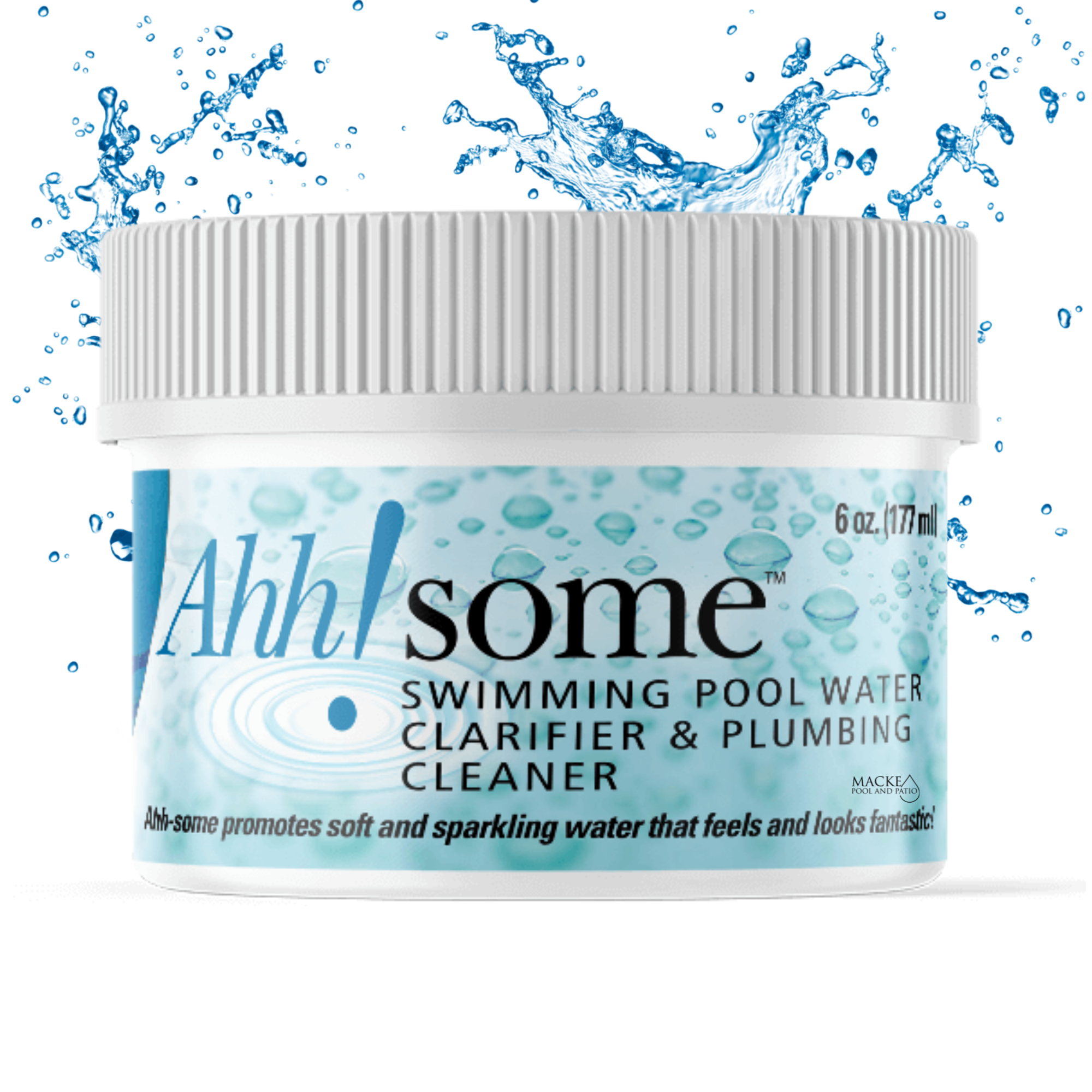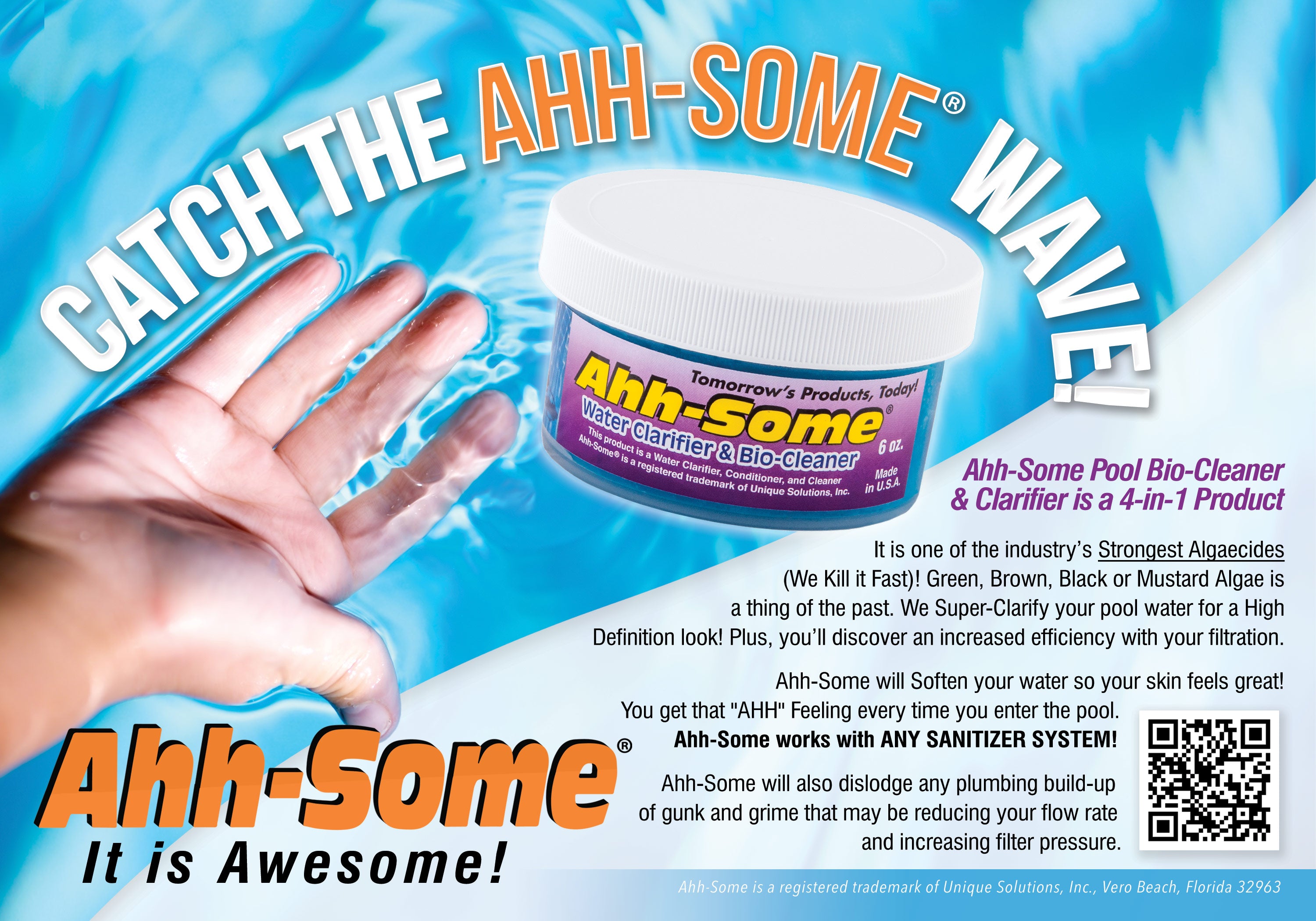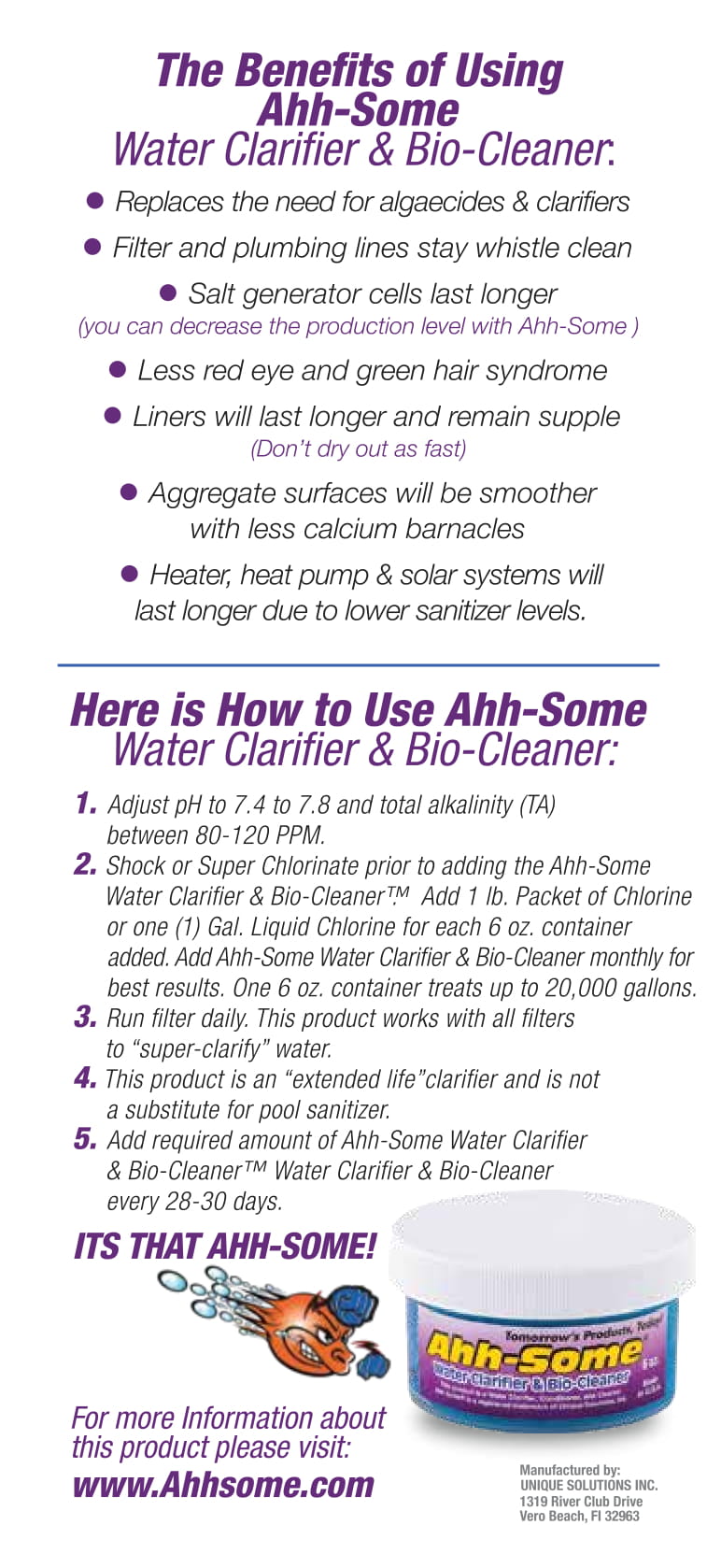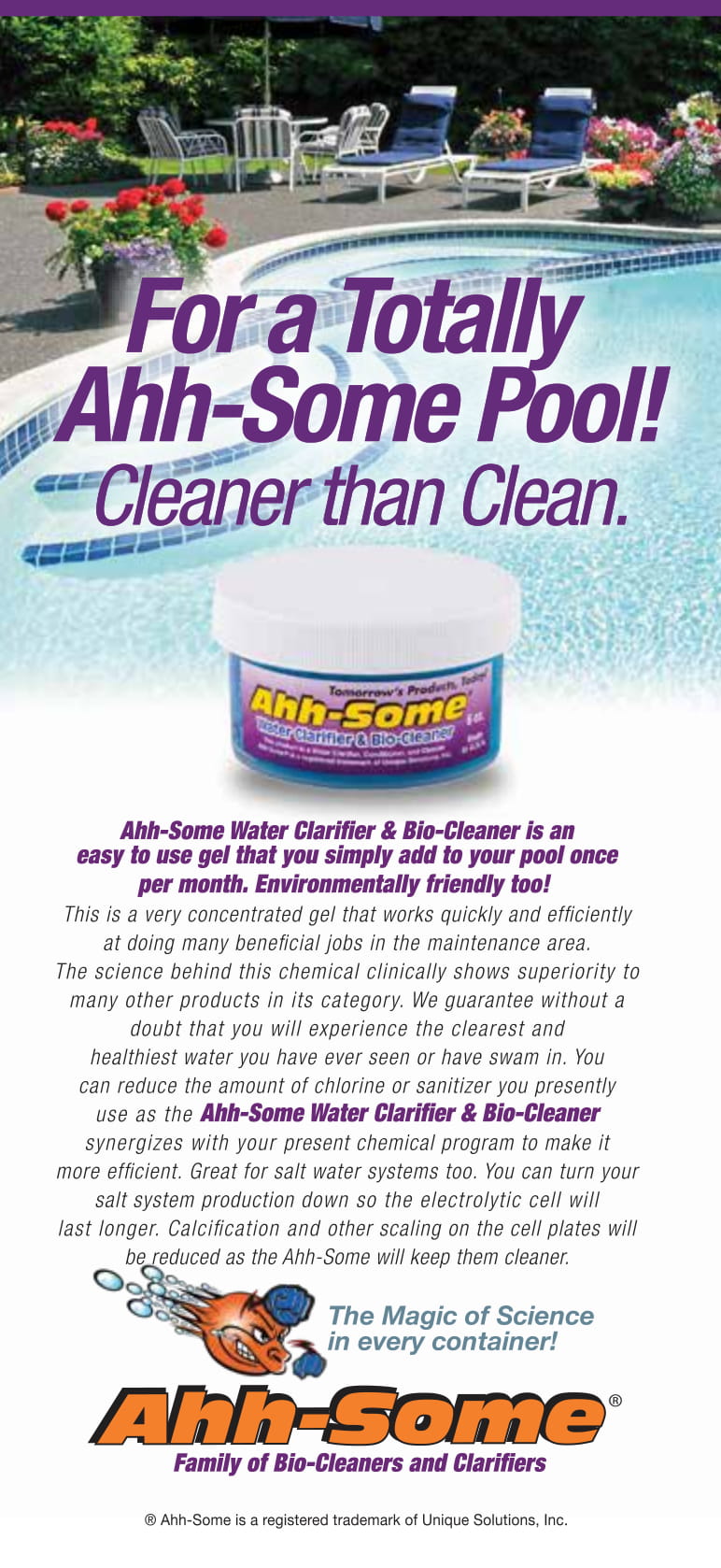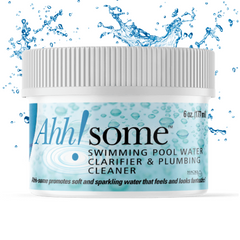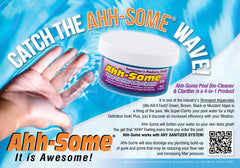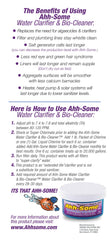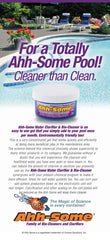 FIND THE PRISTINE BLUE MAINTENANCE GUIDE BELOW
AHH-Some Pool Water Bio-Cleaner & Clarifier 6oz.
$32.95
Out of stock
Free Shipping on orders over $35!! Orders ship within 24 hours!
GUARANTEED SAFE CHECKOUT

Description

This product is for your pool and is used in addition to the chemical lines you are currently using! It is compatible with all chemical lines! 
Ahh-Some clears cloudy & hazy water, helps remove pipe build up and purges your pluming all at the same time! Ahh-some is environmentally friendly, easy to use and you simply add it to your pool ONLY once per month! It will combat biofilm and build-up to maintain perfect clarity while using less chlorine and other chemicals. Your pH and alkalinity will be able to stay in the perfect range all year round!  Imagine the water not only looking the best ever, but feeling so soft, silky, and smooth to your skin. PLUS your pool equipment and accessories will end up lasting much longer because you don't have to use as many harsh chemicals! 

Benefits
 Filter and plumbing lines stay "whistle clean".
 Salt generator cells last longer (you can decrease the production level with   Ahh-Some Water Clarifier & Bio-Cleaner).

 Less red-eye and green hair syndrome.

 Liners will last longer and remain supple (not dry out as fast).

 Aggregate surfaces will be smoother with fewer calcium barnacles.

 Heater, heat pump, and solar systems will last longer due to lower sanitizer levels.

 Pool cleaners have fewer particulates to capture lowering turbidity levels.

 YOU ARE DOING SOMETHING POSITIVE FOR YOUR FAMILY AND FRIENDS.
How To Use
1. Adjust pH to 7.4 to 7.8 and total alkalinity between 80-120 PPM 
2. Shock or super Chlorinate prior to adding the Ahh-some water clarifier & bio-cleaner. Add 1 lb. packet of chlorine or 1 gal. liquid chlorine for each 6oz container added. Add Ahh-Some water clarifier & Bio-Cleaner monthly for best results.
- One 6 oz. container treats up to 20,000 gallons.
3. Run Filter daily. This product works with all filters to super-clarity water.
4. This product is an "extended life" clarifier and is not a substitute for pool sanitizer.
5. Add the required amount of Ahh-Some water Clarifier & Bio-Cleaner every 28-30 days!
Ahhmazing!
I ordered this during Prime so it was probably quite a bit cheaper than now. I was having trouble this year with my pool being clear. The instruction on the jar was a little vague so I found their website and sent a email. I received a response the next day! I was told to put this in the pool; I have a 27' above ground so I put the whole jar in my skimmer basket and to let it run (I believe 4-6 hours), then backwash it in 48 hours. I was told it would take up to a week to work. We'll I was very hesitant because day after day I saw no improvement. Sure enough 7 days later my pool is crystal clear!  It says to use once a month but $30…is it worth the price…I may try every other month. I did buy their Winter Closing jar too so we'll see how that works
Keeps pool sparly
We have been using for years, one per month helps, especially in summer months.Don't forget to add chlorine after you put this in
Not cheap but worth it !
We have used this product in our in-ground pool for some 4-6 years and have been most pleased with its ability to keep the pool clear.  My wife puts it in at a two week interval and it does a superb job.......better than all the clarifiers and algecides we've tried from the pool supply store.  We live in northern Ohio and a typical season requires 8-9 applications.
Awesome Product!  The health of your water is affected behind the scenes too - in you lines!
Had a touch of pink algae in my clear/white intex hoses and this stuff eliminated it!
It Works!
We buy this every year to open the pool!
Pristine Blue Maintenance Guide
WHAT IS IN THE CARE GUIDE
In this care guide you will be able to look up everything you need to know for starting , maintaining, coonverting and troubleshooting your Pristine Blue pool and/or spa!
POOL AND SPA START UP
Learn about how to start up your pool or spa in this care guide. It will give you step by step directions on how to accomplish the best possible water treatment you can!
CONVERTING TO PRISTINE BLUE
In this guide it will step you through the process of converting to Pristine Blue.
WINTERIZING YOUR PRISTINE BLUE POOL
In this guide it will show you how to winterize your pristine blue pool. This will help you out tremendously in the spring.
TIPS & TRICKS
This guide will give you all of the tips and tricks to acheive awesome water treatment. Get crystal clear water!!
We deliver happiness orders nationwide
100,000+
Top Rated

based on Amazon

Ask questions, share tips & tricks, communicate and learn more about Pristine Blue!
JOIN OUR PRISTINE BLUE FACEBOOK GROUP