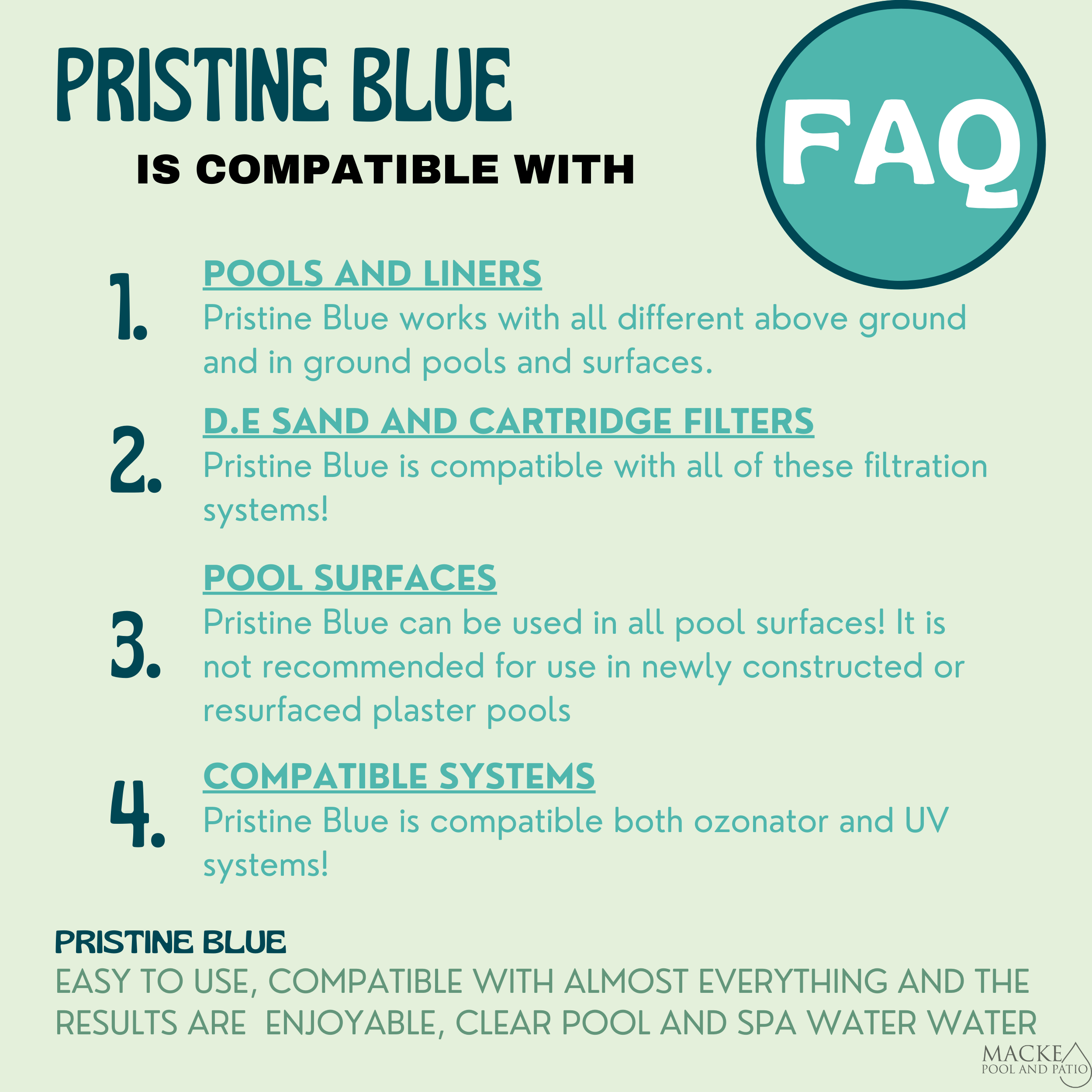 FIND THE PRISTINE BLUE MAINTENANCE GUIDE BELOW
Pristine Clear
$14.99
Out of stock
Free Shipping on orders over $35!! Orders ship within 24 hours!
GUARANTEED SAFE CHECKOUT

Description
Pristine Clear is part of the Pristine Blue system and is used every 2 weeks to clear cloudy water in pools and spas by bringing together suspended particles which allows your filter to remove them more easily. You only have to add the same amount of Pristine Clear every 2 weeks. 
Product Dosage
Pristine Clear is added every 2 weeks along with the Pristine Blue.
For Pools:
2 ounces per 10,000 gallons of water every 2 weeks.
For Spas or Hot Tubs:
1 milliliter per 100 gallons of water every 2 weeks.
Shelf Life:
PristineBlue

 

can be used from season to season if stored in a closed container above 32° Fahrenheit.

PristineClean, PristineCheck, PristineClear and PristineMist

, no expiration on effectiveness.

PristinePower, PristineExtra

, are most effective if used within 1 year of purchase, but continue to a degree for several years when stored properly.

PristineBlue Mini Test Kit

 

reagents and PristineStrips have a shelf life of 2 years.

EnzyPure

 

is most effective if used within 2 years of purchase. 
Pristine Clear SDS Sheet CLICK HERE
Very good store love this place
Best!!
The best pool products I've ever used. Very simple to use. I recommend Pristine Brand for all pool chemicals. This company is very speedy and thorough. Very pleasant and even sent a beach ball as a free gift. I recommend using this company.
Great to keep your water clear
Ill use this product every two weeks to keep my water clear. It works great. I did have to use shock and clean my pool filter once after the winter months to clear out the cloudiness but that was it!
Easy
Use same amount every 2 weeks like it tells you to. Never have had a problem/
Pristine Blue Maintenance Guide
WHAT IS IN THE CARE GUIDE
In this care guide you will be able to look up everything you need to know for starting , maintaining, coonverting and troubleshooting your Pristine Blue pool and/or spa!
POOL AND SPA START UP
Learn about how to start up your pool or spa in this care guide. It will give you step by step directions on how to accomplish the best possible water treatment you can!
CONVERTING TO PRISTINE BLUE
In this guide it will step you through the process of converting to Pristine Blue.
WINTERIZING YOUR PRISTINE BLUE POOL
In this guide it will show you how to winterize your pristine blue pool. This will help you out tremendously in the spring.
TIPS & TRICKS
This guide will give you all of the tips and tricks to acheive awesome water treatment. Get crystal clear water!!
We deliver happiness orders nationwide
100,000+
Top Rated

based on Amazon

Ask questions, share tips & tricks, communicate and learn more about Pristine Blue!
JOIN OUR PRISTINE BLUE FACEBOOK GROUP