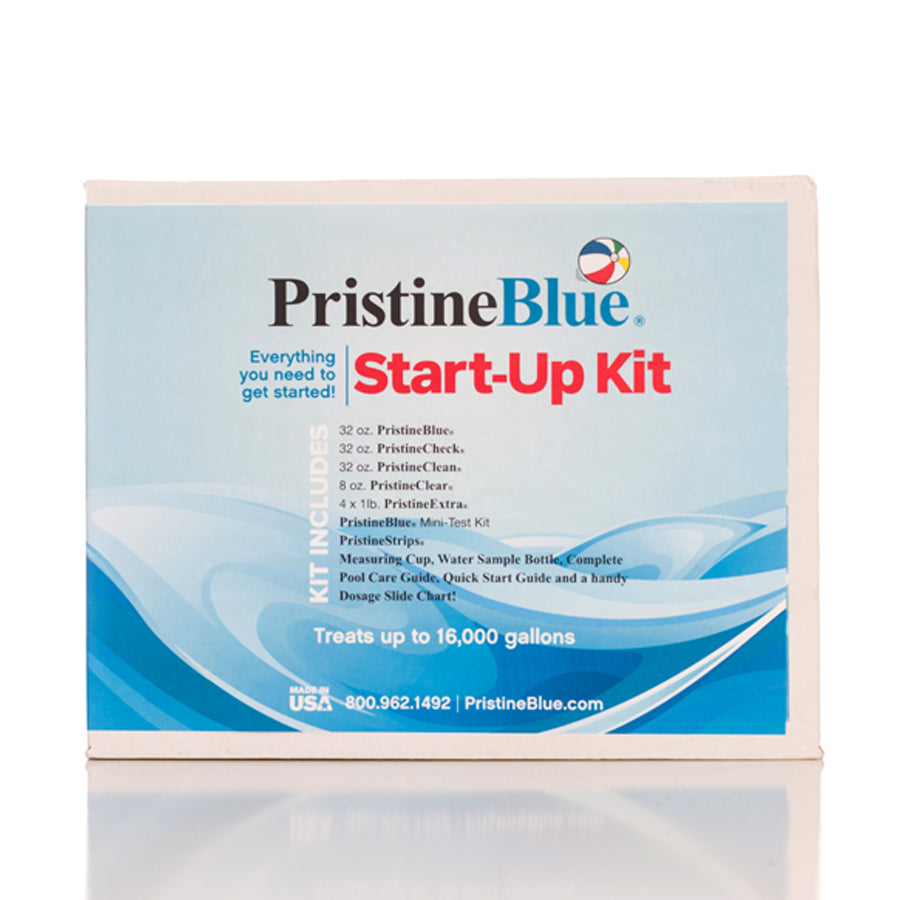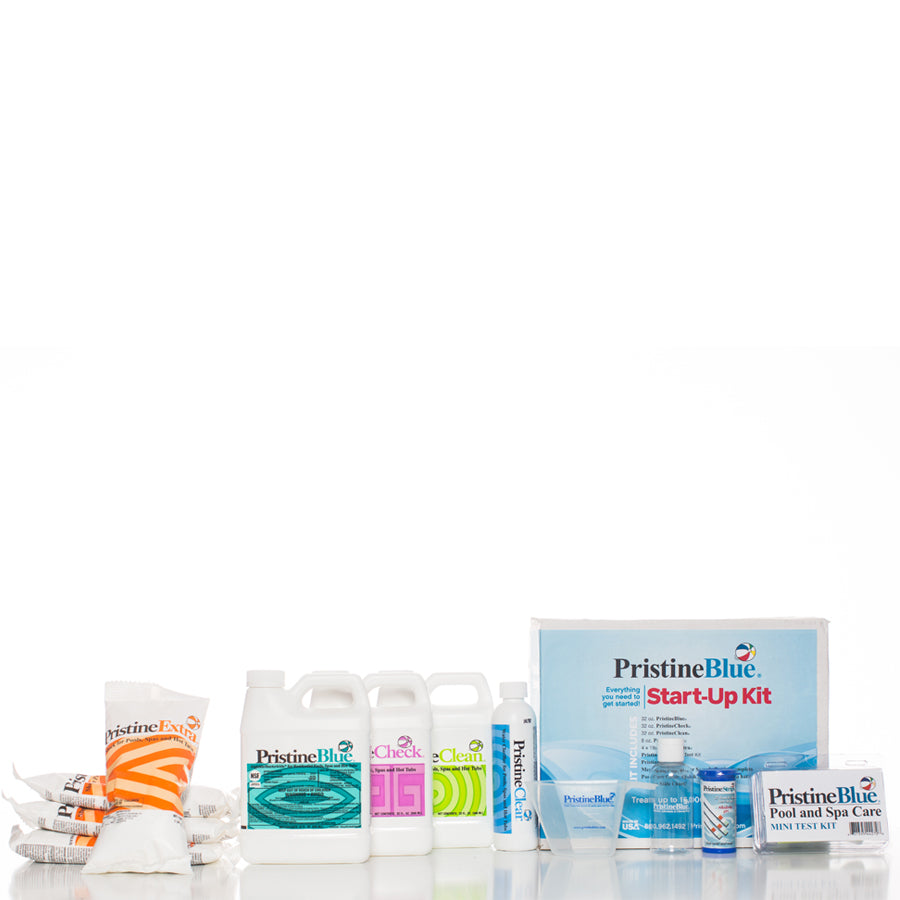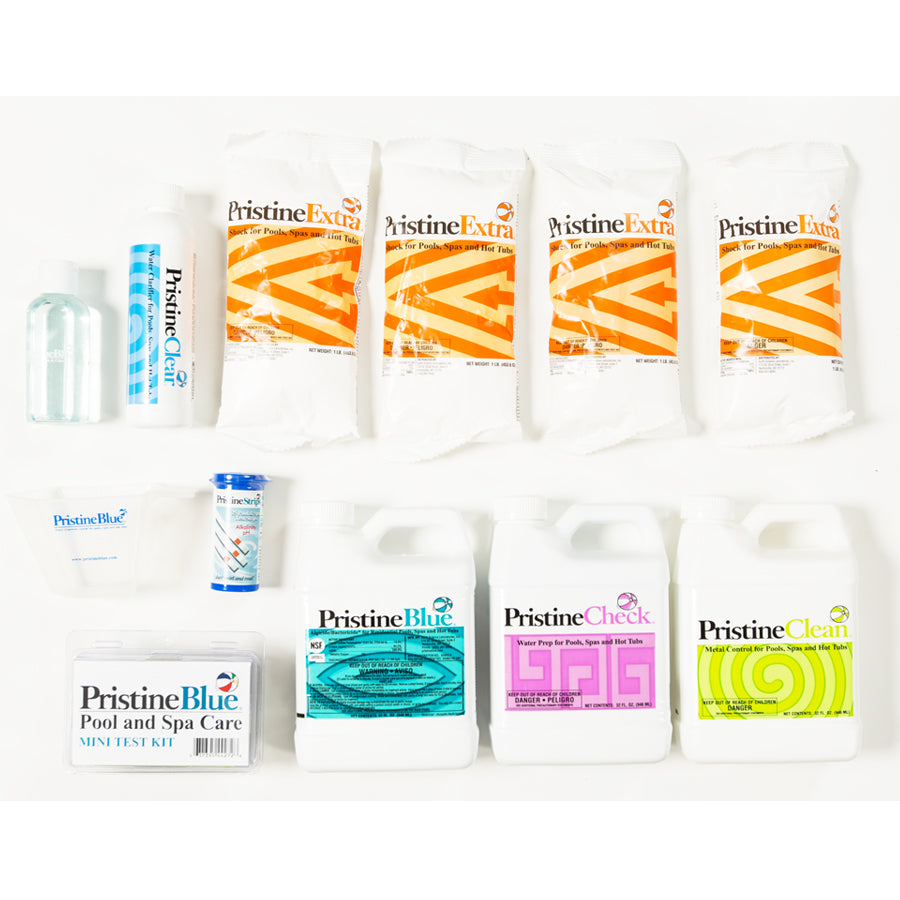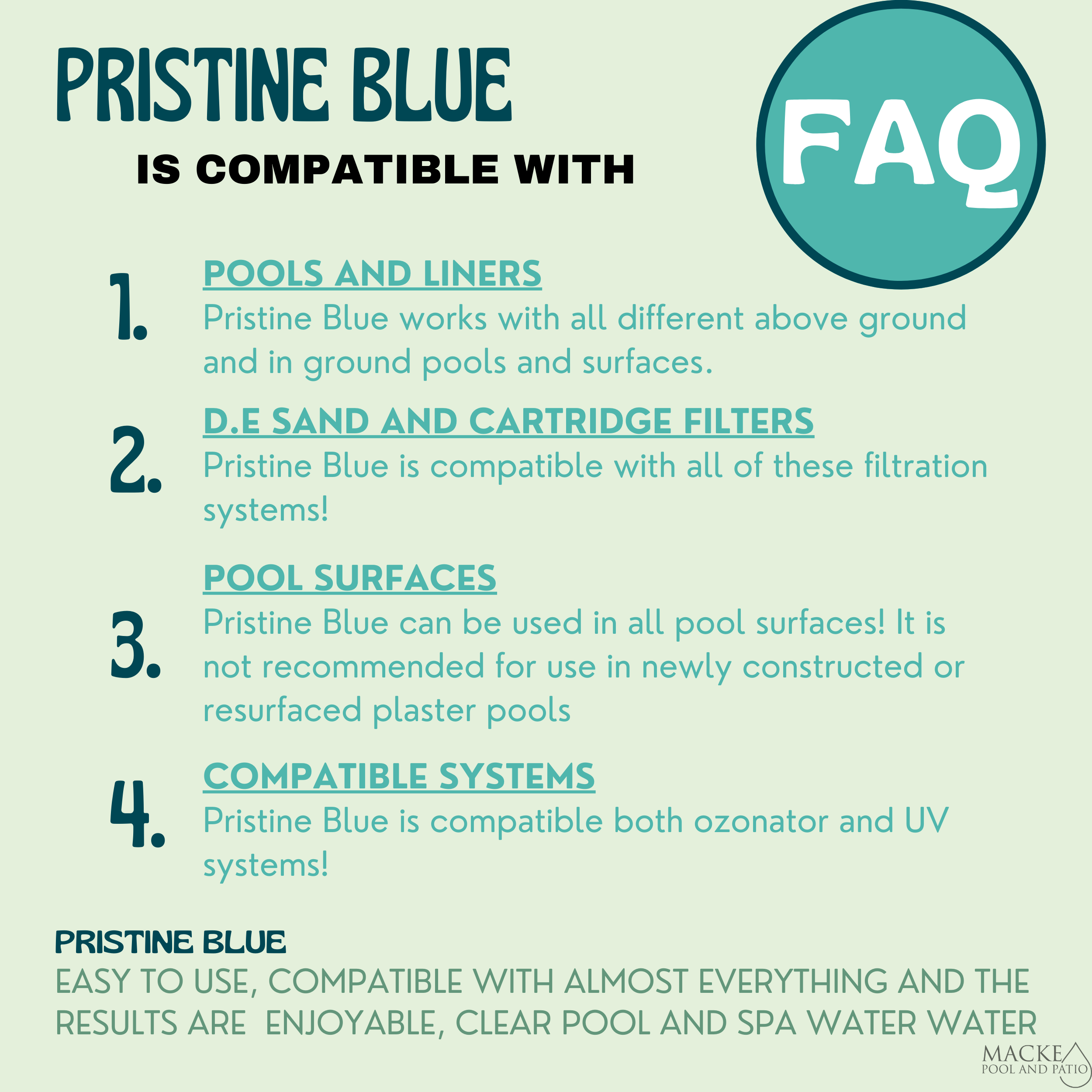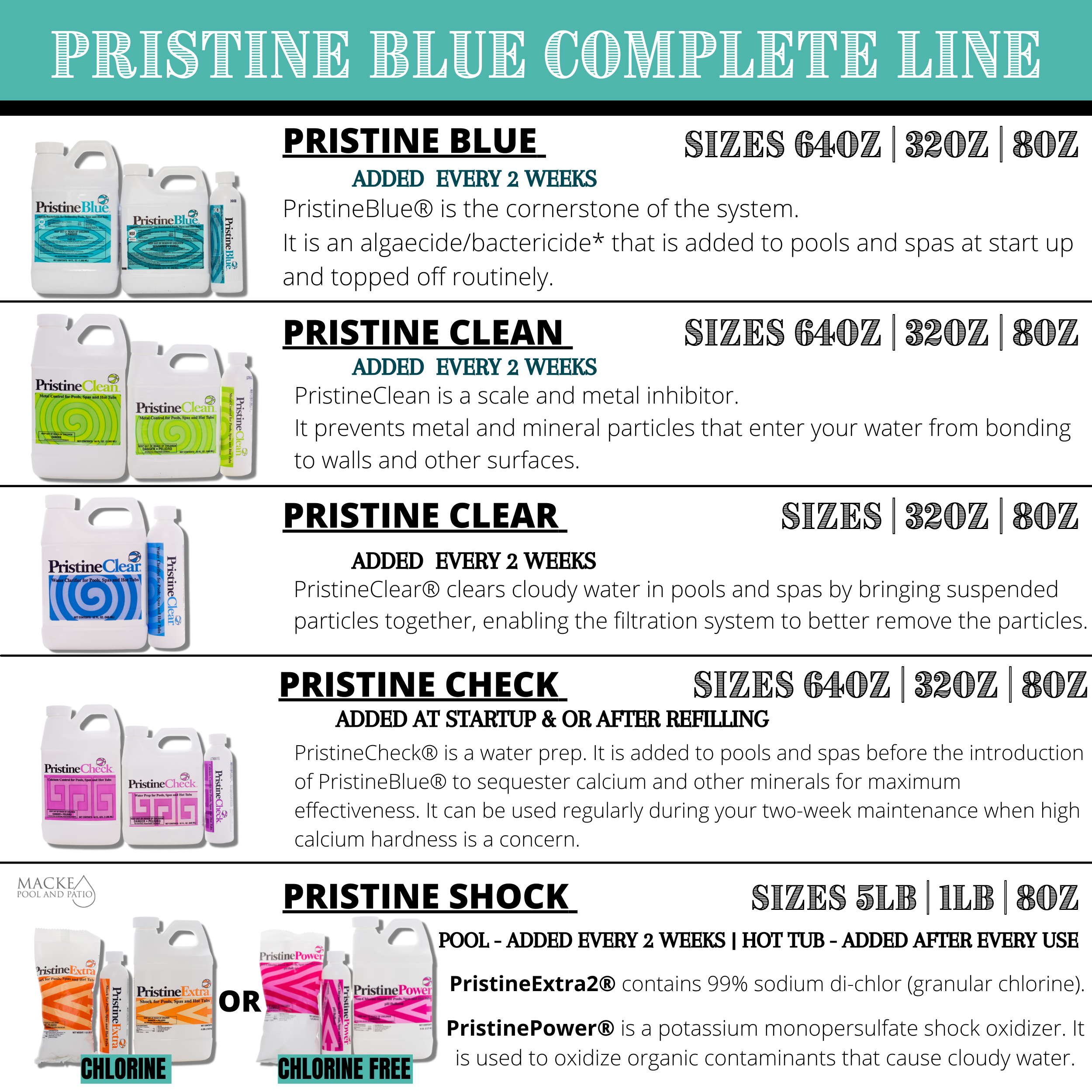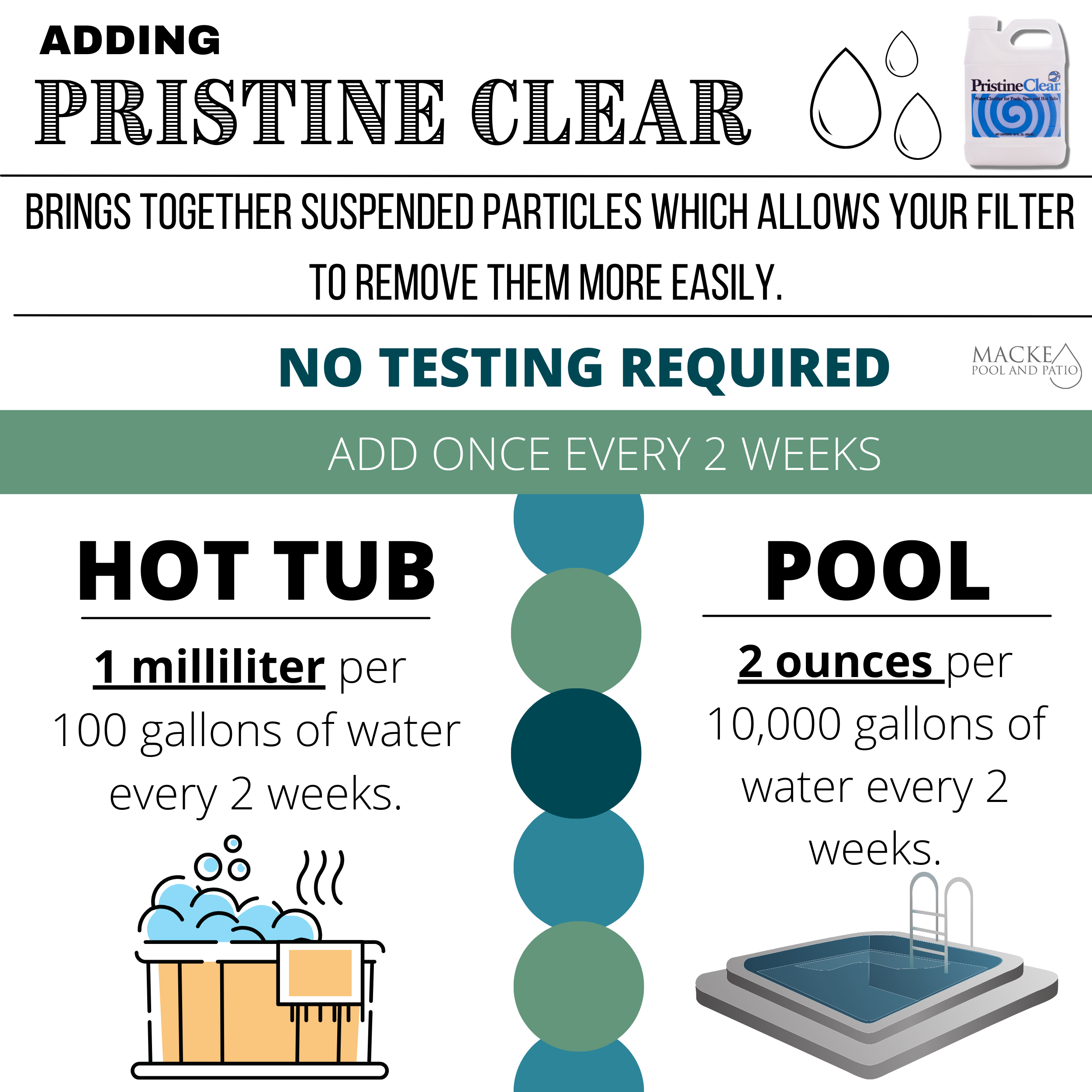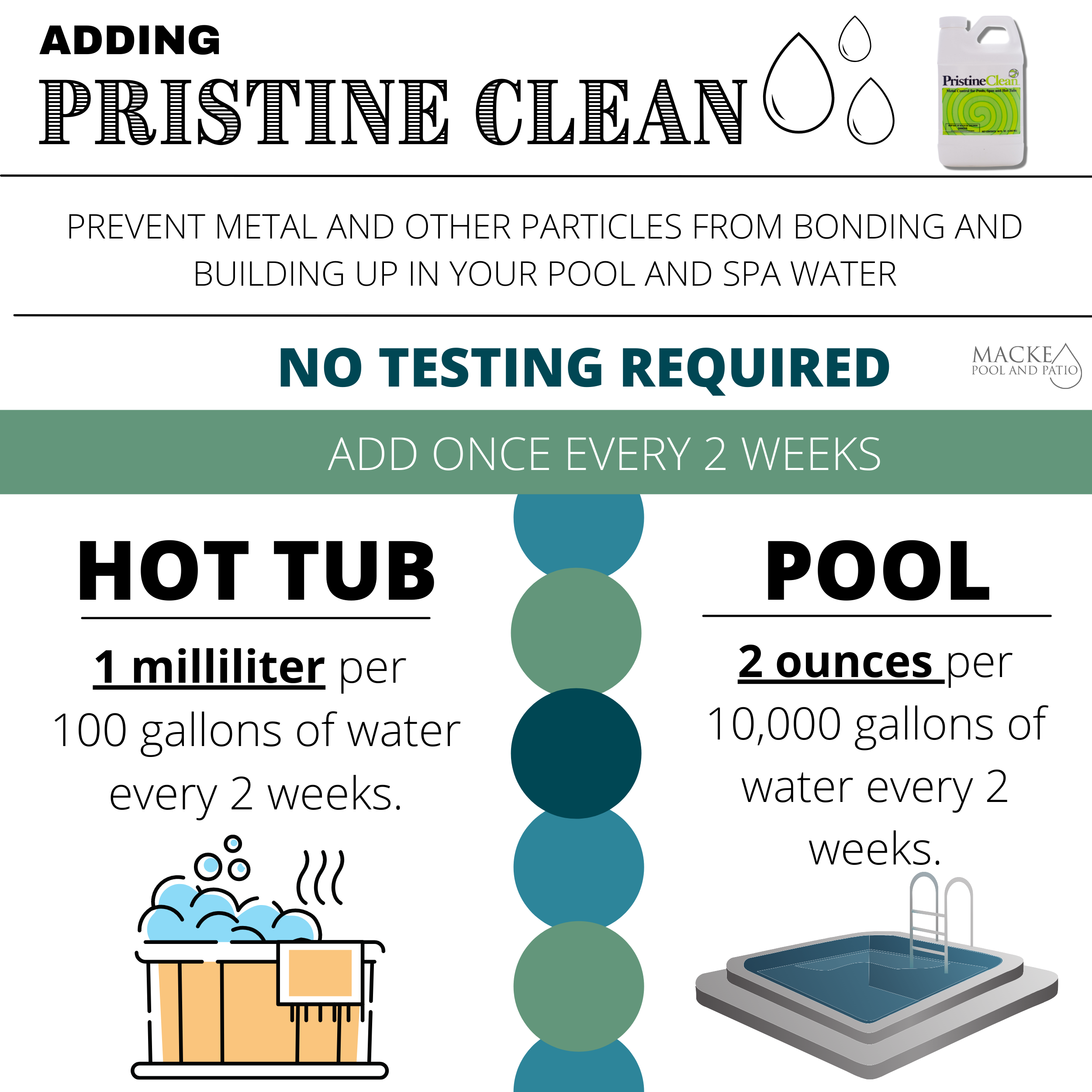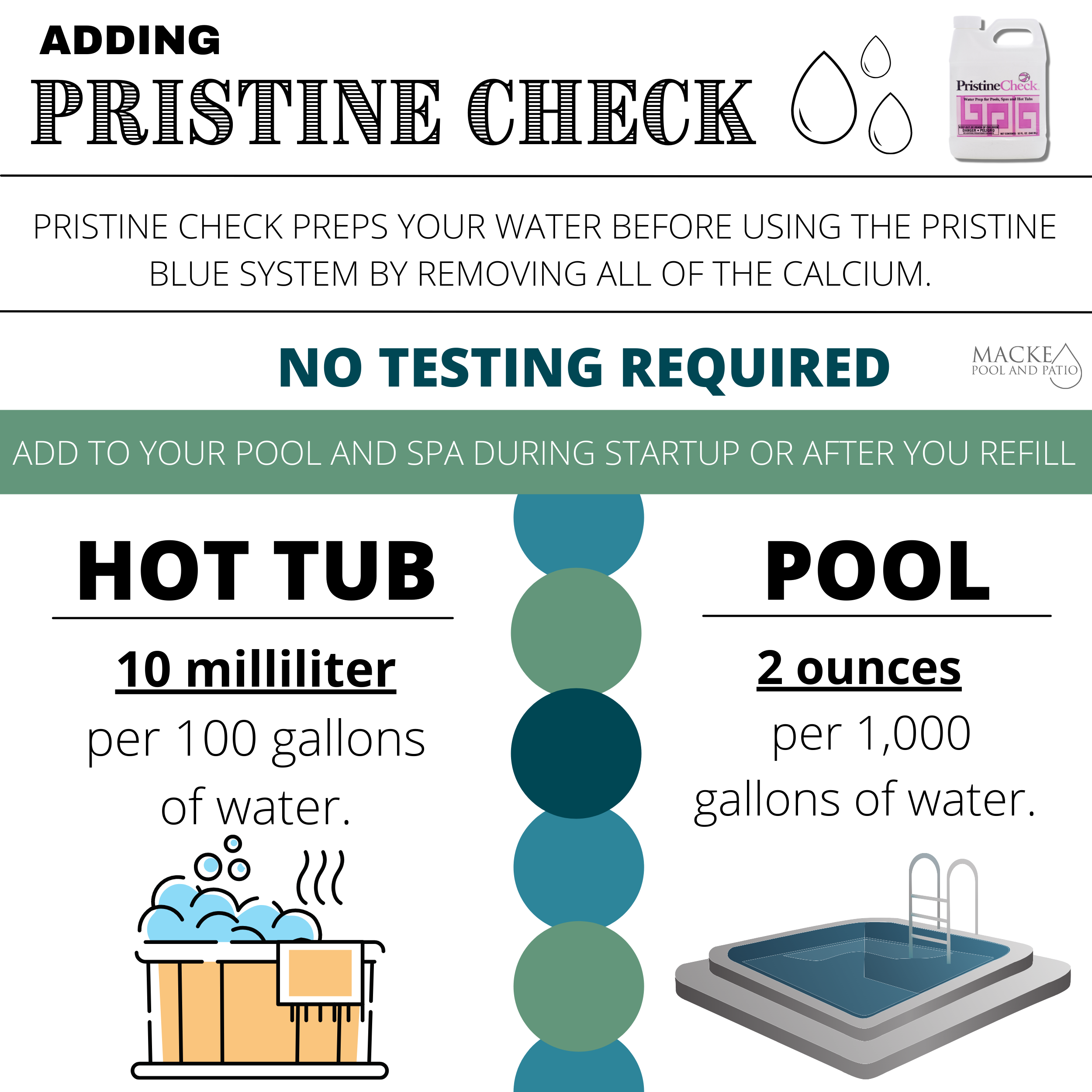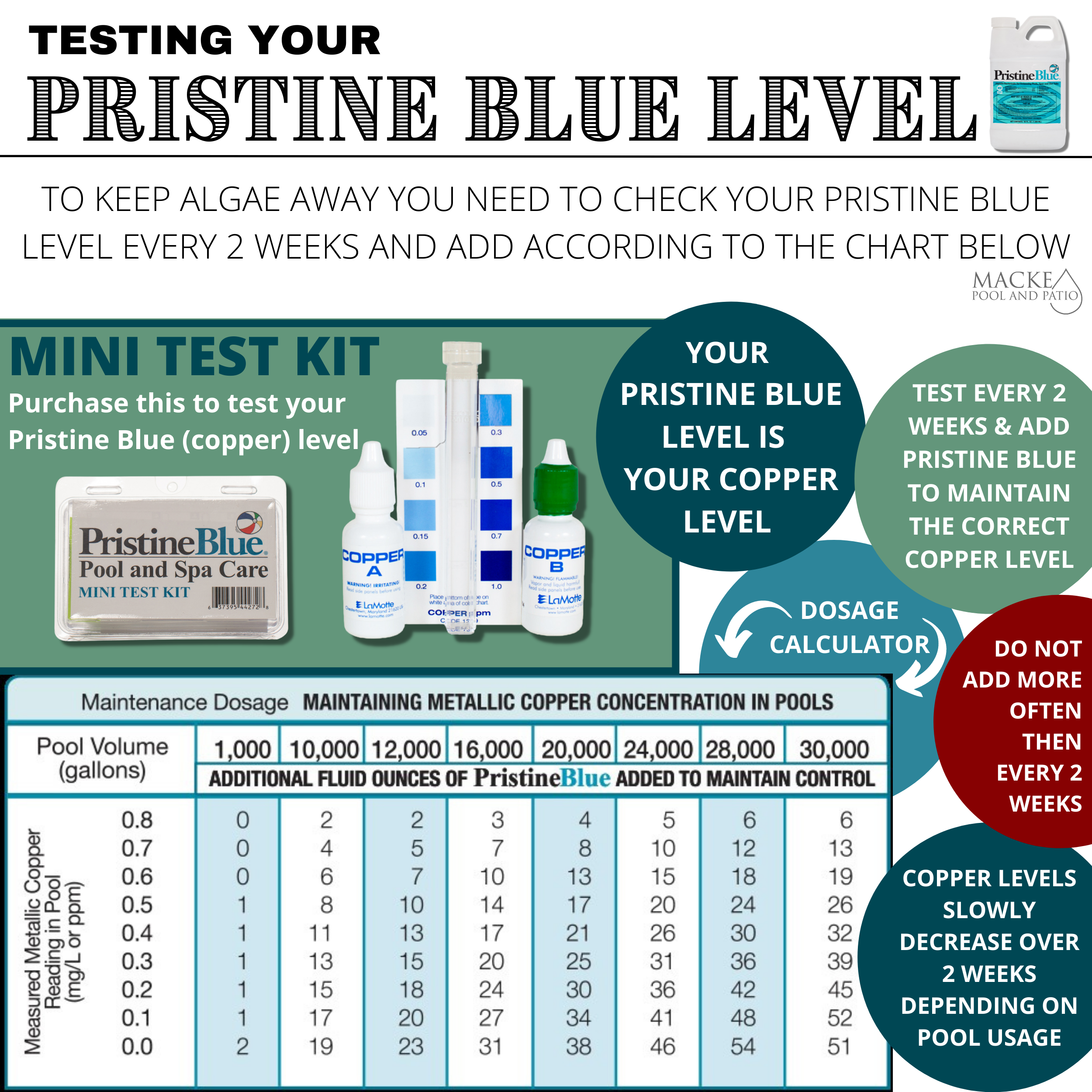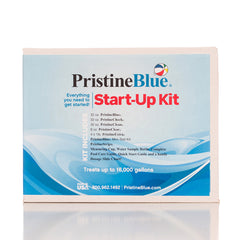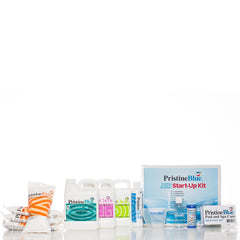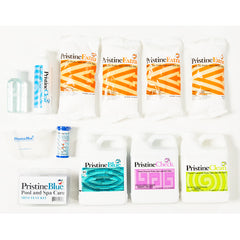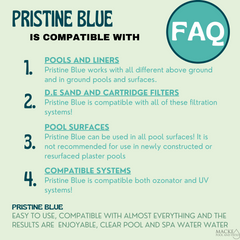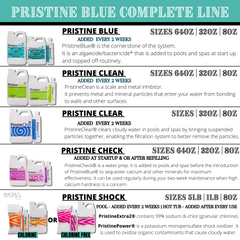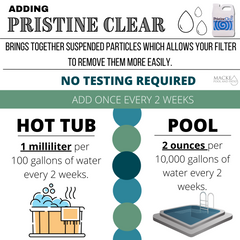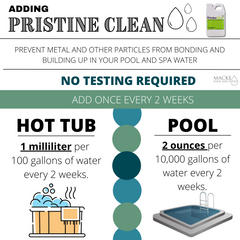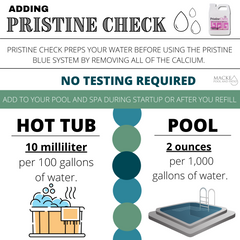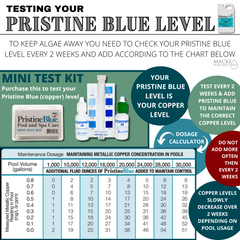 FIND THE PRISTINE BLUE MAINTENANCE GUIDE BELOW
Pristine Blue Start-Up Kit For 16,000 Gallon pools
$214.99
Out of stock
Free Shipping on orders over $35!! Orders ship within 24 hours!
GUARANTEED SAFE CHECKOUT

Description
Pristine Blue Start-Up Kit has everything you need to start up your pool with the Pristine Blue Chemical line. Converting or starting on Pristine Blue is very easy to do. We will send you a complete guide on how to start and maintain your pool. The Pristine Blue Start-Up Kit is for pools up to 16,000 gallons.
Pristine Blue Start-Up Kit Includes:
Pristine Check - 32 ounce
Pristine Blue - 32 ounce
Pristine Clean - 32 ounce
Pristine

 

Clear - 8

 o

unce
Pristine Extra - 4 - 1 pounds bags
Pristine Strips
Pristine

 

Blue Mini Test Kit
Water Testing

 B

ottle 
Pristine Blue Measuring Cup
How to start using Pristine Blue
Step 1: BALANCE
Balance water to the following ranges 
Total alkalinity: 50 to 90

 

ppm
Calcium Hardness: 100 to 300
Important:
It is unlikely, but achieving an optional water balance may take several days please be patient.
Step 2: PREP
Add 2 ounces of Pristine Check per 1,000 gallons of pool water. Run filter for 6 hours.
Add 1 Pound of Pristine Extra per 10,000 gallons of pool water. Continue running your filter pump for a minimum of 12 hours before proceeding.
Step 3: MAKE IT "BLUE"
Backwash filter or clean cartridge thoroughly. 

Spring opening /current users: Test the Pristine Blue level and add Pristine Blue according to the maintenance Dosage Chart.

New Users: Add 2 ounces of Pristine Blue per 1,000 gallons of pool water.
Important:
Periodically testing to

 

ensure

 

pH is within the 7.2 to 7.6 range after start-up is all that's necessary. DO NOT add Pristine Blue for 2 weeks.
Shelf Life:
PristineBlue

 

can be used from season to season if stored in a closed container above 32° Fahrenheit.

PristineClean, PristineCheck, PristineClear and PristineMist

, no expiration on effectiveness.

PristinePower, PristineExtra

, are most effective if used within 1 year of purchase, but continue to a degree for several years when stored properly.

PristineBlue Mini Test Kit

 

reagents and PristineStrips have a shelf life of 2 years.

EnzyPure

 

is most effective if used within 2 years of purchase.
I am just thinking about starting on Pristine Blue. It seems a little overwhelming. How will I know what to do?

We get this questions a lot, no worries! We include a booklet in the Start Up Kit explaining everything. It looks like there is a lot of different products and it's confusing but it is actually the complete opposite! Once you get the hang of it, it is VERY easy. The booklets and packets we send with the Start Up Kit will set you up with everything you need to know about the system:)

How do I get the ph down?

If you need to lower your pH in a hot tub you will need to go to  your local store and purchase "pH Down" You can usually find it at Menards or Walmart. You will follow the instructions on the bottle. The Pristine Blue line does not make pH down. If you are trying to lower your pH in a pool you can use pH Down or Muriatic acid.  If you would like to use the muriatic acid please give me a call at 320-200-4494 and I will talk to you about how you can use this. Remember that as you are lowering your pH you will also be bringing down you alkalinity.
Product just as ordered and shipment was great.
Fast and easy
This kit gives you everything you need to get started. Super easy to understand the steps!
Start up is easy!
When I order the Pristine Blue start up kit, they gave me everything I needed to learn how to do everything myself. Came with booklets and guides explaining everything. I even called them when I had a question and they are just so friendly. Such an easy process getting started with Pristine Blue!
Pristine Blue Maintenance Guide
WHAT IS IN THE CARE GUIDE
In this care guide you will be able to look up everything you need to know for starting , maintaining, coonverting and troubleshooting your Pristine Blue pool and/or spa!
POOL AND SPA START UP
Learn about how to start up your pool or spa in this care guide. It will give you step by step directions on how to accomplish the best possible water treatment you can!
CONVERTING TO PRISTINE BLUE
In this guide it will step you through the process of converting to Pristine Blue.
WINTERIZING YOUR PRISTINE BLUE POOL
In this guide it will show you how to winterize your pristine blue pool. This will help you out tremendously in the spring.
TIPS & TRICKS
This guide will give you all of the tips and tricks to acheive awesome water treatment. Get crystal clear water!!
We deliver happiness orders nationwide
100,000+
Top Rated

based on Amazon

Ask questions, share tips & tricks, communicate and learn more about Pristine Blue!
JOIN OUR PRISTINE BLUE FACEBOOK GROUP