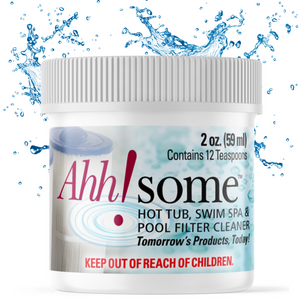 AHH-Some Hot Tub, Swim Spa, Filter Cleaner - 2oz
AHH-Some Spa / Hot Tub Plumbing Jet Cleaner 

Ahh-Some Description
Ahh-some Pool & Hot Tub Filter Cleaner is a safe, effective, and fast-acting gel cleanser that purges sediment, algae, inorganic contaminants, exfoliated skin, oils, and other particulates from your filter cartridges and grids.
Ahh-some Pool & Hot Tub Filter Cleaner comes in a 2-oz container (4 cleanings per jar). It also works great on other hard-to-clean surfaces, too. Watch it unleash its powerful scrubbing action without toil or time from you. This gel is absolutely fantastic!
ow that it is working because the biofilm will float to the top of your spa and stick to the sides. You typically will use Ahh-Some when you are ready for fresh water and draining your spa. 
Cleans Within Minutes: Algae, decomposed organics, dirt, sand, silt, lotions, cosmetics, and all other contaminants and particulates. 
Thousands of those fine tolerance pores in the tightly woven media filter bag are purged of any and all matter after a 15-minute soaking. After thorough rinsing, you are left with a very clean filter that allows water to permeate the pores with ease. Plus your jet pressure will be enhanced. Great to remove contaminants from sand filters as well. See instructions.
This product is for your Spas and is used in addition to the chemical lines you are currently using and is compatible with all chemical lines! 
Ahh-Some Benefits
Using Ahh-some Pool & Hot Tub Filter Cleaner provides several benefits.
Improved filter performance


Water stays cleaner longer

Has no acids or harsh cleansers that can burn/harm grass, vegetation, or pets

Environmentally more desirable

Thorough "deep cleaning"

Cleaner water with less filter run time

Easy to use

Filters get cleaned faster
Ahh-Some Directions 
1. Fill a 5-gallon pail with hot water and add an ounce of hot tub filter cleaner.
2. Stir to form a pool filter cleaning solution. Using warmer water will accelerate this step.
3. Remove the skimmer basket. If you have two or more skimmers, pick anyone.
4. While the filter is in the BACKWASH cycle, turn on the pump. Slowly pour half of the diluted solution into the skimmer.
5. After pouring, SHUT THE PUMP OFF. Let the cleaner penetrate and saturate into the sand for about 30 minutes.
6. Keep in BACKWASH CYCLE and turn the pump BACK ON. Slowly pour the remaining liquid into the skimmer. Ideally, if you have another skimmer, pour into that one.
7. When the pail is empty, keep backwashing for 30 seconds to 1 minute longer. Shut the power off. Place the selector valve into RINSE mode if available.
8. Power back on for 15 seconds. Shut the power OFF. Place the skimmer basket back into the skimmer. Turn the selector back to FILTER and turn the pump on.
Best Jet & Filter Cleaner at best price
We always bought this product from our hottub store but it was twice as much per unit, and sometimes hard to get. Happy to have found it here! It's the most effective cleaner when changing the water in our hottub and soaking the filter.
Another great Ahh-some product
I have been using Ahh-Some products for over three years now in our hot tub. I change my filters monthly and have found this to be a great product. It dissolves easier than most other products and I let them soak overnight and then spray them off and let them dry.  I do use hot water as it helps to dissolve the material better and allows for a better soak than cold water but you can do it either way.
Nice and easy to use!
We used Ahh-some to clean our swimspa and it is awesome!
very good
I am a huge fan of this product super easy to use, good directions and the water came out looking great.
QUESTIONS & ANSWERS
Have a Question?
Be the first to ask a question about this.
Ask a Question